The Trophy remains in the Netherlands. The winners of the 18th European Champions' Cup are Team BC'T ONSTEIN. Congratulations to Simon de Wijs (pc), Bob Drijver, Bauke Muller, Bart Nab, Ricco van Prooijen and Louk Verhees.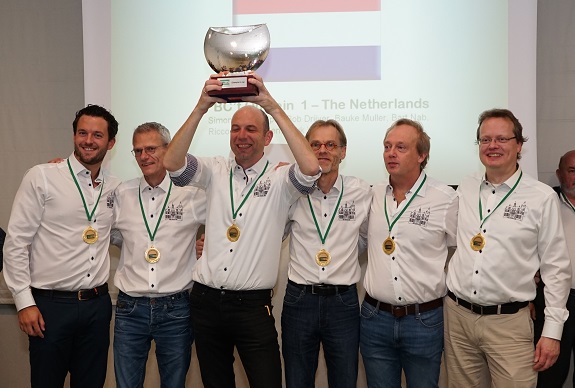 Runners-up are Team English Champions: Alexander Allfrey (pc), Mike Bell, Tony Forrester, David Gold, Graham Osborne and Andrew Robson.
The Bronze medal goes to Team Monaco FMB: Pierre Zimmermann (pc), Jean-Charles Allavena, Piotr Gawrys, Michal Klukowski, Krzysztof Martens and Franck Multon.
The event, held in Bucharest – Romania, from the 14th till the 16th of November, was attended by 12 teams. This competitions is for the national club champions from the top ten countries in the previous European Teams Championships.
Participants
Information
Results & Ranking
Bulletins
Champions' Cup Section