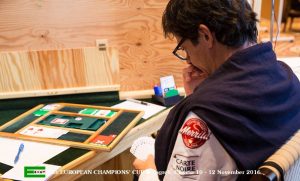 This is an annual competition that takes place in November for the national club champions from the top ten countries in the previous European Teams Championships. Those national Bridge organisations lacking an inter-club competition are represented by the winner of its most prestigious team event.
The 18th European Champions' Cup will be played in Bucharest, 14-16 November 2019.
Click here for all the info
Click on the Event number below for the tournament website, on the Venue for rankings and on the Winner for team members.
Year
Event
Venue
Winners
Open
2018
17
Eilat, Israel
BC't Onstein 1 
2017
16
Riga, Latvia
BC'T ONSTEIN 
2016
15
Zagreb, Croatia
MONACO 
2015
14
Milton Keynes, England
ITA-G.S. ALLEGRA 
2014
13
Milan, Italy
G.S. ALLEGRA ITA 
2013
12
Opatija, Croatia
G.S. ALLEGRA 
2012
11
Eilat, Israel
G.S. ALLEGRA 
2011
10
Bad Honnef, Germany
G.S. ALLEGRA 
2010
9
Izmir, Turkey
ONSTEIN - NED 
2009
8
Paris, France
ANGELINI - ITALY 
2008
7
Amsterdam, Netherlands
PARIOLI - ITALY 
2007
6
Wroclaw, Poland
PARIOLI - ITALY 
2006
5
Rome, Italy
BBC - GERMANY 
2005
4
Brussels, Belgium
PARIOLI - ITALY 
2004
3
Barcelona, Spain
PARIOLI - ITALY 
2003
2
Rome, Italy
PARIOLI - ITALY 
2002
1
Warsaw, Poland
ITALY