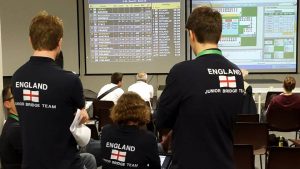 This competition consists of an Under 16, Under 21, Under 26 and an Under 26 Women Teams Championship. Each EBL member country is entitled to enter one national team in each category. This competition takes place every odd-numbered year over a seven-day period.
Click on the Event number below for the tournament website, the Venue for rankings and on the Winner for team members.
The EBL is pleased to confirm that the 27th European Youth Bridge Team Championships will be organised in co-operation with the Norwegian Bridge Federation at Oslofjord Convention Center, Stokke, Norway, from 4th to 11th July 2019.
Year
Event
Venue
Winners
Juniors
Youngsters
Girls
2017
26
Samorin, Slovakia
SWEDEN 
SWEDEN 
NETHERLANDS 
2015
25
Tromso, Norway
POLAND 
NETHERLANDS 
FRANCE 
2013
24
Wroclaw, Poland
FRANCE 
SWEDEN 
FRANCE 
2011
23
Albena, Bulgaria
ISRAEL 
POLAND 
POLAND 
2009
22
Brasov, Romania
FRANCE 
POLAND 
POLAND 
2007
21
Jesolo, Italy
NETHERLANDS 
POLAND 
POLAND 
2005
20
Riccione, Italy
POLAND 
POLAND 
NETHERLANDS 
2004
19
Prague, Czech Republic
POLAND 
POLAND 
AUSTRIA 
2002
18
Torquay, England
ITALY 
ISRAEL 
 
2000
17
Antalya, Turkey
NORWAY 
POLAND 
 
1998
16
Vienna, Austria
ITALY 
ITALY 
 
1996
15
Cardiff, Wales
NORWAY 
GERMANY 
 
1994
14
Papendal, Netherlands
GREAT BRITAIN 
FRANCE 
 
1992
13
Paris, France
ITALY 
 
 
1990
12
Neumunster, Germany
NORWAY 
 
 
1988
11
Plovdiv, Bulgaria
FRANCE 
 
 
1986
10
Budapest, Hungary
NETHERLANDS 
 
 
1984
9
Hasselt, Belgium
FRANCE 
 
 
1982
8
Salsomaggiore, Italy
POLAND 
 
 
1980
7
Kfar Hamaccabiah, Israel
NORWAY 
 
 
1978
6
Stirling, Great Britain
GREAT BRITAIN 
 
 
1976
5
Lund, Sweden
AUSTRIA 
 
 
1974
4
Copenhagen, Denmark
SWEDEN 
 
 
1972
3
Delft, Netherlands
POLAND 
 
 
1970
2
Dublin, Ireland
DENMARK 
 
 
1968
1
Prague, Czech Republic
SWEDEN