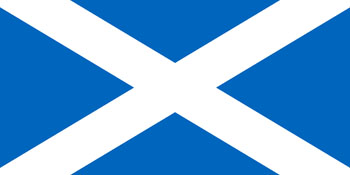 Albert Benjamin
(1909 – 2006)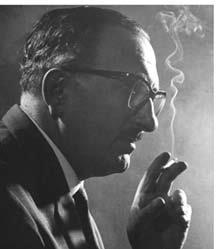 Widely known as 'The Father of Scottish Bridge', Albert was born in Glasgow. (His family, fleeing persecution in Russia, believed they were sailing to New York, but fortunately got no further than Scotland). His parents pressured him into medical school, but it became clear that he was not cut out to be a doctor, and he became a bridge author instead. In the late thirties he launched the 'Scottish Bridge Weekly', an 8-page newspaper which he filled single-handedly. The outbreak of war produced a paper shortage which curtailed publication, and Albert was conscripted. His medical background meant he was employed in the Scottish Ambulance service, with a pay cheque of just £3 per week. He became a professional poker player, paying someone else to take over his night shift duties.
When the Second World War ended Albert opened a Bridge Club where he taught and continued his writing. An overheard conversation in a train suggested a business opportunity, and he became a supplier of electrical measuring instruments. The business soon flourished enough for him to employ managers and concentrate on what really mattered to him.
Albert was a prolific author of articles. He had a daily column in the Glasgow Evening Citizen from 1946-1974 when the newspaper folded. He wrote regular articles for The Bridge World and Bridge Magazine. He was a man who needed a deadline – many of his columns were scribbled on the tram on the way home from the club. The system that bears his name – Benjaminised Acol – was cobbled together for an article: he never played it himself. He produced only one book: Tournament Bridge for Everyone which he co-authored with Ewart Kempson in 1963. His unique witty style was more suited to a shorter format.
Albert played for Scotland in the Camrose Trophy (one of the oldest competitions in the world, competed for by England, Scotland, Wales, Northern Ireland and Ireland) from 1950 -1966. He was a member of the first Scottish team to beat England, at the 22nd attempt, in 1963. Scotland won the Trophy again the following season. From 1966-74 Albert acted as non-playing captain, winning four Trophies and tying with England twice. Since Albert's day Scotland has won the Trophy just 6 times.
Albert won all the major Scottish events, including 8 Scottish Cup wins. In the early years of the Master Point Scheme (introduced in 1953) he presented a Trophy for an Invitational Individual Tournament for the leading players on the Master Point List, a source of great stories to this day.
To mark his 80th birthday a compilation of his articles was produced by Aspbridge Services: "Albert Benjamin: the Lion of the North." The dedication reads:
"A man who has our respect and admiration as team member, teacher, writer of thousands of articles and purveyor of bidding and playing conundra. But above all we love him for his kindness, his sense of humour, his ready wit and infinite wisdom. A man above men, it is an honour and a privilege to be counted as one of his many friends."
From your Lionesses and Cubs
In 1993 Albert was made an Honorary Member of the Scottish Bridge Union.
Hugh Kelsey
(1926 – 1995)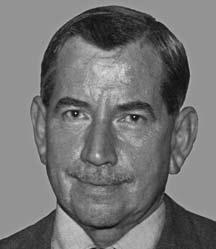 Scotland's most famous and respected bridge author with more than 60 titles to his credit.
Hugh was born in Edinburgh, a son of the manse where cards were frowned on. He learned to play bridge in the army during the Second World War. He met his wife Flora in Malaya where he worked for a rubber company, and she was a Red Cross nurse. They returned to Scotland in 1961 to ensure a good education for their two sons and two daughters. Out of a job, Hugh tried his hand at writing novels with limited success. He found his true metier as a writer on bridge.
His first book "Killing Defence", was published in 1966, and brought instant fame. Some experts could not believe that an unknown writer could produce such a book. "Who really wrote it?" Joe Amsbury was heard to enquire. Matthew Granovetter described it as 'the original breakthrough in teaching how to think on defense'. "Advanced Play at Bridge" appeared in 1968 to equal acclaim, and all Hugh's later books were of the same high quality. One of his favourites was "Adventures in Card-Play" which he co-authored with the Hungarian Geza Ottlik: Zia Mahmood described this as 'perhaps the most exceptional bridge book ever. '
Hugh is recognised world-wide as one of the greatest bridge authors of all time; his work has been translated into every language where bridge is played. As the blurb on the jackets of his books used to say: "Although taken for granted by his phlegmatic countrymen, Kelsey is feted as a celebrity whenever he travels abroad."
"The world has lost one of its greatest bridge writers, but the world has been fortunate that Hugh Kelsey was around and showed so many of us the way. There are few bridge experts who would not have a number of Kelsey titles on their list of the Top Ten Bridge books. He was the expert's expert, and among the best bridge analysts in the world. There are few bridge players beyond the novice level who do not owe part of their technique and skill to Hugh Kelsey." (Ron Klinger)
Hugh wrote prolifically for "Bridge Magazine" and "International Popular Bridge Monthly."
He was Bridge correspondent of 'The Scotsman' from 1979-1995
He was the International Bridge Press Association Personality of the Year in 1992-93, and he was an Honour Member of the IBPA.
He was made an Honorary Member of the Scottish Bridge Union in 1993.
Hugh was under-rated as a player. He had a very successful partnership with Tom Culbertson. They were part of the first Scottish team to win the Gold Cup in 1969; he won again in 1980 with John McMonagle.
He played for Scotland in the Camrose Trophy (one of the oldest competitions in the world, competed for by England, Scotland, Wales, Northern Ireland and Ireland) from 1967-86, and was part of three winning teams.
At the height of his bridge-playing career, when playing in the Netherlands in 1983, Hugh suffered a near-fatal heart attack. His health had always been a concern – he suffered from asthma, and fish and nut allergies – but after 1983 he had to be particularly careful. He nonetheless volunteered to act as NPC to the British Women's team. He had another attack while captaining them at the World Teams Olympiad in Seattle in 1984, but still returned home with a silver medal. The following year he led the British Women's team to second place in the European Championship in Salsomaggiore.
After his brush with death he gave up cigarettes in favour of cigars, but he seemed to associate thinking with smoking, so he could not give up altogether.