Paul Lukacs
(1915 – 1982)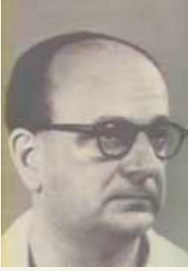 Paul Lukacs was born in Hungary in 1915 and died in Tel Aviv in 1982.
At the beginning of the 1930's the Austrian bridge team dominated the world bridge scene and their main rival was the Hungarian team, of which the seventeen-year-old Paul Lukacs was a member.
With the rise of the Nazis most of the Hungarian and Austrian players moved to other countries. Among them was Paul Lukacs who moved to Israel in 1939. He was a top mathematician with outstanding analytical abilities which he used in his mastery of Bridge. He was a regular contributor to the US publication "The Bridge World" and wrote books on Bridge problems. The book, Spotlight on Bridge Play, which he authored together with Robert Darvas, is still a must for bridge experts.
In Israel, Paul had no one to play with, so he played against himself and developed the single dummy bridge problem.
"The great master of this genre was Paul Lukacs. For about a quarter of a century he created problems of great subtlety which were published in The Bridge World magazine and in books." (New York Times).
Victor Mollo called him "the best bridge player ever away from the table." (Wikipedia)
He helped develop bridge in Israel and although he represented Israel on the National team, he decided to concentrate on the teaching and training of young promising players in Israel, many of whom he partnered and who later represented Israel.
Paul, partnered by Dr Antol Krakovsky, took part in the 1961 World Par Bridge Championships. The world's top players took part in this Championship which was held simultaneously in many places in the world. A par contest involves finding the best solution for the play of a hand in the time available, and the players' results are compared with a par (optimal) score rather than with each other. Paul achieved a result of 100% and the pair finished second, behind the legendary Terence Reese playing with Claude Rodrigue.