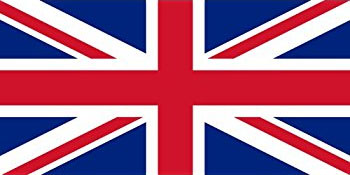 Boris Shapiro (1909 – 2002)                                     Terence Reese (1913 – 1996)
Rixi Markus (1910 – 1992)                                        Sandra Landy (1938 – 2017)
Boris Shapiro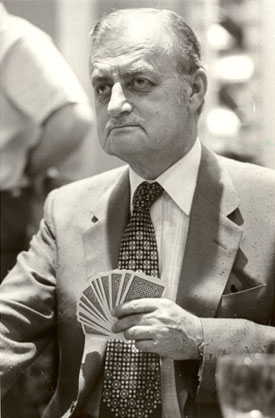 Boris Schapiro was one of the bridge world's most colourful, irreverent and irrepressible bridge players. He was a force to be reckoned with at any bridge table, a force that did not lessen with age – in 1998, at the age of 89, he won the World Senior Pairs title.
Boris represented Great Britain in the European Championships on ten occasions, winning the competition four times. He also played in the Bermuda Bowl twice, winning the competition in 1955.
He came second in the World Teams Olympiad in 1960 and the World Open Pairs in 1962, and in 1962 also won the World Mixed Teams. He won the Macallan/Sunday Times Invitational Pairs in 1964 and came second in the same event in 1991 at the age of 81.
He and his partner, Terence Reese, were accused of cheating during the Bermuda Bowl in Buenos Aires. Although they were found not guilty by a tribunal set up by the British Bridge League, Boris chose to retire prematurely from competitive bridge. He only returned to Championship bridge as a veteran player – albeit successfully picking up a number of major victories.
His success in domestic bridge over a prolonged period is shown by his record in the Gold Cup – Britain's premier knockout teams competition – which he first won in 1946, and won for the 11th time in 1998.
In 1968 he became bridge correspondent of The Sunday Times, a post he held until his death. He was made an honorary Life Member of the English Bridge Union in 1998 in recognition of his immense contribution to the game.

Terence Reese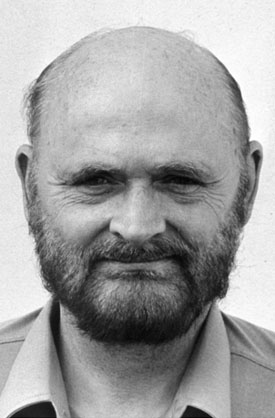 During his bridge career Terence Reese was probably Britain's most famous player.
He was part of Great Britain's team in the European Championships on ten occasions, winning a gold medal four times, one silver medal, and three bronze medals. He was part of Great Britain's Bermuda Bowl winning team of 1955, and also played in the Bermuda Bowl in 1965, and twice in the World Olympiad. He won the Sunday Times Invitational Pairs in 1964.
As well as his success at the table (which also included numerous domestic titles, including victory in the Gold Cup on eight occasions) Terence was also one of the world's leading bridge writers. He authored an estimated 80-90 books on bridge, and for decades contributed columns to British newspapers alongside editing The British Bridge World from 1955 to 1962.
Terence's career in international competitions was abbreviated when, in 1965, he and his partner, Boris Schapiro, were accused of cheating during the Bermuda Bowl in Buenos Aires. They were found not guilty by a tribunal set up by the British Bridge League but they did not play together again.

Rixi Markus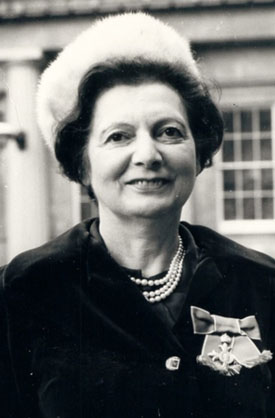 Rixi Markus was, to many people, the best – and most colourful – European female bridge player of all time.
Playing for her native Austria she won the European Championship three times, and World Championships once, before escaping Austria for Britain in 1938.
She joined the British team, and in 1951 won her first European Championships for her adoptive country. She went on to win six more for Great Britain, her last in 1975, plus two silver medals and one bronze – in her fifteen total appearances in the European Championships only twice did she not stand on the podium.
In 1962 Rixi won both the World Women's Pairs and World Mixed Teams, in 1964 won the World Olympiad, and in 1974 again won the World Women's Pairs. In 1976 she won a silver medal in the Venice Cup.
In 1974 Rixi became the first Woman World Grandmaster, and in 1975 she received an MBE from the Queen for her "services to bridge".
Rixi was bridge columnist for the Guardian newspaper from 1955 to the year of her death in 1992. She authored seven books, including an autobiography, "The Vulnerable Game".

Sandra Landy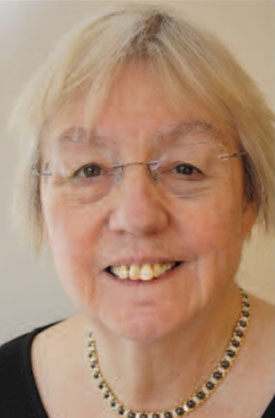 Sandra Landy made an enormous contribution to British and English bridge as a player, an administrator, and teacher.
She was a multiple World and European champion, representing Great Britain in 16 European championships (winning Gold five times, silver three times, and bronze four times), 11 World Championships (winning Gold in 1981 and 1985 and Silver in 1976), and five World Olympiads (winning four silver and one bronze medals).
She was also very successful in domestic bridge, winning most of the major competitions in Great Britain and England.
She was a mentor within the British team for many future stars of the game, and also acted as NPC for a number of Great Britain and England's junior teams, helping to develop the next generation of players.
Sandra received the EBU's Diamond Award in January 2016 in recognition of her excellence and success over a sustained period for England's international teams. She also received a medal from the EBL as part of the 50th Anniversary celebrations in Ostend in 2010.
For many Sandra's greatest contribution was as a bridge teacher. As well as teaching at a 'local' level she made an enormous contribution to the teaching of bridge in Great Britain through her work in developing 'Bridge for All', the English Bridge Union's teaching programme. Sandra's articles on the topic were part of English Bridge magazine for almost a decade.
She jokingly said that her contribution to bridge theory is the "Landy game try": bid game and then try to make it.