John Armstrong (1952-2008)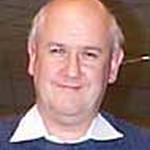 John Armstrong of Derbyshire, who died suddenly aged 56, was a member of the England Open Bridge team a week before his death at the European Bridge Championships. In the pair rankings for the championship Armstrong and his partner, John Holland of Manchester, were second to the Norwegian gold medallists.
Armstrong was England's most capped player in the Home Internationals in a career that spanned four decades. In 1987 Armstrong was in the British team that won silver in both the European and World championship, and then gold at the European Championships in 1991.
Armstrong was born in Ashbourne, Derbyshire in 1952. Both his parents were school teachers and John learned bridge as a teenager. He obtained a First at Cambridge University in mathematics. After University he moved to the Liverpool area for a job with Royal Insurance.
His long-time bridge partner was Graham Kirby. Their first international was in 1978. They earned 31 Camrose appearances for England concluding in 1997 when Kirby retired from international bridge to look after a young family. Armstrong had six internationals partnering Danny Davies before Davies took up a job in the United States.
Armstrong then formed a partnership with Holland. Their first match for England in 2006 saw Armstrong overtake the record of 37 caps for England long held by Tony Forrester. Armstrong and Holland were also selected for a Home International weekend in 2007 and in March this year, before the Europeans.
Armstrong recorded six wins in the Gold Cup, the British knockout championship.
He had retired from his job in insurance and returned to his home town. Armstrong was keen on orienteering, a talented pianist and a devout catholic. He was both a gentle man and a gentleman, very well-liked and respected in the bridge world.
Armstrong never married. He predeceases his mother, two brothers and a sister.
Major International Appearances
European Championships: 1979 1983 1987 1989 1991* 1993 1995 2002 2006 and 2008
Bermuda Bowl: 1987 and 1991
World Olympiad: 1988 and 1992
* = 1st place
Camrose Trophy Selections: 1978 1979 1980 1983 1984 1985 1986 1987 1988 1989 1990 1991 1992 1993 1994 1995 1997 2000 2001 2002 2003 2004 2007 and 2008
Gold Cup Winner: 1986 1989 1990 1992 1993 and 1996
Crockfords Winner: 1982 1985 1987 and 2004
Autumn Congress Two Stars Pairs Winner: 2005
National Teams Congress winner: 1978 1985 1987 1989 and 1992
The Hubert Phillips Bowl Winner: 1983 1985 1986 1988 and 1991
Tollemache Cup winner: 1985 1987 and 1993