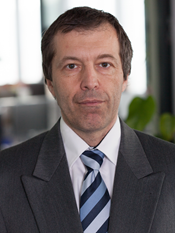 Peter Belčák, from Bratislava, Slovakia, was elected a member of the EBL's Executive Committee in Ostend in 2018. He is the President of the Slovak Bridge Association.
As a player, he is  a member of a team that in recent years regularly finishes among the Top 3 in the highest Slovak national league. In 2017 he played for the Slovak national team at European Small Federations Games in Monaco.
Peter is a keen organizer, having led the organization committees of the European Small Federations Games in Košice in 2013 and the European Youth Teams Championship in Šamorín in 2017. He is married and has two children.
Tel. +421 905 012032 – Mobile +421 908 762270 – prezident@bridgeclub.sk