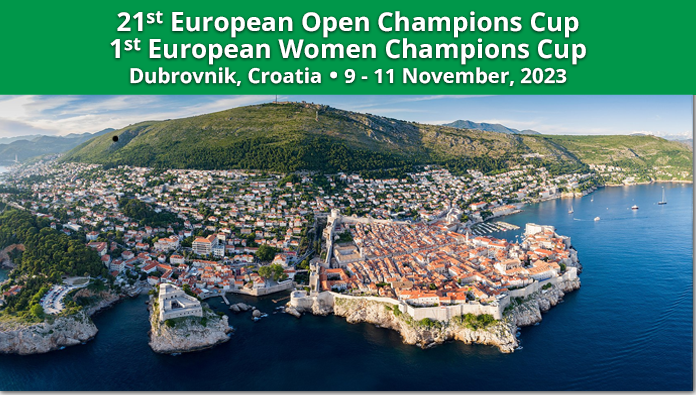 Marking its 20th iteration, the Champions Cup is set to break new ground by launching a Women's Championship alongside its established Open series. Hosted in Dubrovnik, Croatia, this prestigious tournament is unique in that it features the winners of national bridge championships from across Europe. With the expansion to include a Women's series, the event is set to elevate the profile of European bridge to new heights.
When and Where
The final event of the season will unfold from November 9th to 11th, 2023, at the luxurious Rixos Libertas Hotel in Dubrovnik, Croatia. The first match will begin at 10:00 AM on Thursday, November 9th. BBO transmissions will be available throughout the entire event. Additionally, the bidding history of all the tables will be available to our online viewers.
Tournament Format
Qualifying Rounds
In the Open Championship, 12 teams will face off in 11 rounds of 10 boards each. The inaugural Women's Championship will include eight national champion teams in a complete round-robin setup, consisting of seven rounds with 12 boards each.
Semifinals
Teams will be divided into groups of 4 based on their performance in the qualifying rounds. This stage incorporates a unique twist: each team gets to pick its opponent for the semifinal matches, which will consist of two 16-board segments.
Finals
The concluding stage sees teams compete in two rounds of 16 boards to finalize the rankings. The winners and losers in each group will face each other, allowing for a complete ranking from 1 to 12 in the Open Championship and 1 to 8 in the Women's Championship.
Participants
List of participants is available at http://db.eurobridge.org/repository/competitions/23Dubrovnik/microsite/Participants.asp
Fun Facts
Italian Dominance: Italian teams racked up an impressive 12 wins in the tournament's first 14 editions. However, their last victory came in 2015.
Belgian Representation: Belgium sends two teams this year as they are the defending champions of the event.
Swiss Power: Switzerland is fielding the same team that triumphed in the Bermuda Bowl earlier this year.
Limited Circle of Champions: Only six countries have ever claimed the Champions Cup trophy: Italy with 12 wins, the Netherlands with 4, and Germany, Monaco, Norway, and Belgium each with one.
Croatian Hosts: This is the second time Croatia has hosted the event; the first being in Opatija in 2013.
Women in Open Series: Four women are competing in the Open event, with three representing Croatia and one from the Belgian side, BRUSSELS BRIDGE CLUB.
The 20th Champions Cup is a big step for European bridge, introducing a Women's Championship for the first time. Taking place in Dubrovnik, the tournament will be competitive and well-covered, thanks to live BBO streaming and available bidding histories. It's a must-watch event for anyone interested in bridge, starting on November 9th.
Courtesy of https://bridgescanner.com/