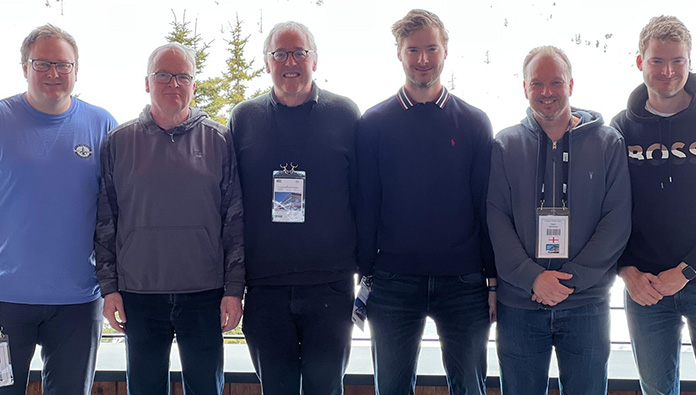 On finals day it was Orca who raised the Les Etincelles Cup on high as winners of the fourth Winter Games. The GCK Trophy went to Wigoder. The major prize-winners and medallists were:
Les Etincelles Cup
Gold: Orca (Peter Crouch, Erik Berg, Espen Erichsen, Richard Plackett, Ola Rimstedt & Mikael Rimstedt)
Silver: Multon (Franck Multon, Kiki Ward-Platt, Giovanni Donati, Giacomo Percario, Nikos Delimpaltadakis & Vassilis Vroustis)
Bronze: Vinciguerra (Herve Vinciguerra, Philippe Soulet, Cédric Lorenzini & Thomas Bessis) and Zimmermann Silver (Jacek Kalit a, Fernando Piedra, Michal Kwiecien & Wlodzimierz Starkowski)
GCK Trophy
1. Wigoder (Charles Wigoder, Boye Brogeland, Maciej Dabrowski, Zia Mahmood & Geir Helgemo)
2. Zimmermann Gold (Pierre Zimmermann, Sjoert Brink, Bas Drijver, Piotr Gawrys, Michal Klukowski & Michal Nowosadzki)
3: Bernal (Francisco Bernal, Augustin Madala, Antonio Sementa & Alfredo Versace)
The winners of Final B were Sigma (Doris Fischer, Bernd Saurer, Peter Jokisch & Udo Kasimir).
The provisional dates for the 2024 Winter Games in Tignes are April 15-21!