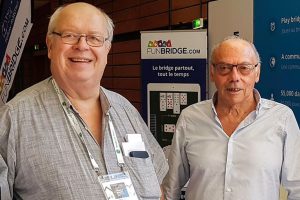 I am very sad to let you know that Patrick Grenthe passed away tonight. Patrick was one of the very few people able to manage various careers at the same time – CEO of a quite well known company Choky Tropico, he was President of the bridge club of Lille and a first class player becoming World Champion in the D'Orsi World Cup 10 years ago in Veldoven Meanwhile he was with me the organizer of the biggest World Bridge Series ever in Lille 1998 and participated in the World Bridge Games 2012 organization also in Lille.
That was during his first term as President of the French Bridge Federation where he succeeded in having bridge included in the school curriculum with an official agreement with the Ministry of Education During his second term (re-elected with 98%!) he decided to bring the World Bridge Teams to Lyon in 2017 which was also very successful.
Patrick was more than a good friend of mine, a kind of adopted brother for something like 40 years and I had many opportunities to share what he loved more than anything else, bridge games and lunches or dinners. He was lucky to have his family as bridge lovers too, his wife Dominique , and his two sons Guillaume and Jérôme who were Junior world vice champions.
I am sure that the whole bridge community will join me in addressing to Dominique, Guillaume Jérôme as well as their daughter and sister Aurélie, our deepest condolences and all our sympathy. Through them and all his achievements, Patrick will remain for ever in our memory and still present on many occasions where we will think he is always with us.
Jose Damiani
President Emeritus
European Bridge League