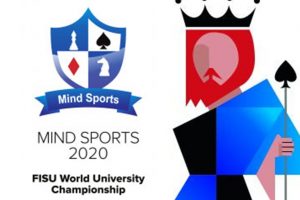 Written by: FISU (International University Sports Federation)
The first ever FISU World University Championship Mind Sports concluded successfully on 30 October. It was a first for two reasons – firstly, because it brought together chess and Bridge into one FISU event, and secondly, because it was conducted entirely online! There were more than 550 participants, hundreds of matches and a daily, entertaining live stream that brought the action to all chess and bridge lovers. We can safely say the 2020 FISU World University Championship Mind Sports (online) was a big success and full credit to the Organising Committee in Bydgoszcz, Poland! Find out here how it played out.
Coming up next, we will be marking the 6-month milestone of the all-important FISU Healthy Campus project. More than 40 global universities have already joined this programme and a few have already received certification! More information on this in the coming days.
Finally, applications to the FISU-AIPS Young Reporters Programme at Chengdu 2021 are now open. It is an exceptional opportunity for forty aspiring sports journalists to receive intensive training at the Chengdu 2021 FISU World University Games next summer. Find out more in our top story below and encourage those in your network to apply!
FISU (International University Sports Federation)