We are delighted to tell you that two of our longest serving support staff at our Championships have just been married in Bordighera.
Monica Gorreri who calmly and efficiently manages the enormous board dealing exercise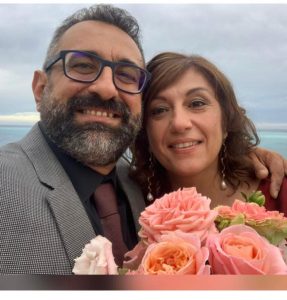 and Gianluca Barrese who is Office Manager and ever present and pleasant on the playing floor have found they have more than bridge in common. Our photo shows a radiant bride and a groom with substantially less hair than we are used to seeing on him!
Congratulations to both of them and best wishes for a long and happy life together!