Tonight we will be presenting the medals for the last of the team championships with the winners becoming the new European Open Champions.
Open Teams podium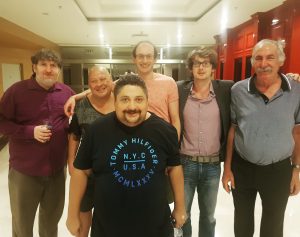 1. Mossop: Jason Hackett, Justin Hackett, Alexander Hydes, Edward jones, David Mossop, Thomas Paske.
1. Netherlands Blue: Danny Molenaar, Berend Van den Bos, Joris Van Lankveld, Tim Verbeek, Ton Bakkeren (cp).
3. Ruchka: Krzysztof Buras, Andrey Gromov, Anna Gulevich, Jacek Kalita, Grzegorz Narkiewicz, Michal Nowosadzki, Vitali Ruchka(cp).
3. Texan Aces: Ehud Friedlander, Inon Liran, Anil Padhye, Padmnabhan Sridharan, Sundarram Srinivasan, Gopal Venkatesh.