The European Universities Bridge & Chess Championships 2017 concluded on Sunday, September 24, with an exciting and fun closing ceremony in Fuengirola, Spain – city which hosted the two competitions.
It was a tight and beautiful fight between University of Padova (ITA) and Charles University (CZE), who finally achieved Gold and Silver. Technical University of Munich (GER), who lead most rounds, had a tough day on Sunday and ended third, getting the bronze medal.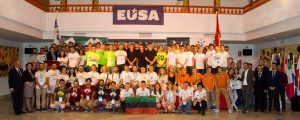 Next EUSA Bridge & Chess Championship in 2019, will be hosted in Budapest, Hungary.
To check Final Results and Butler Ranking click HERE