The Venue Mondolandia is in Via Ponte dei Bari, 5 in Montecatini Terme (close to Ipercoop) you can easily reach the Venue by car: here is a link to visualize it https://goo.gl/maps/NRm1G5FVu6R2
You can reach the Venue by Taxi: the Italian Bridge Federation agreed a fixed price for all the participants as follows:
Regular car from Montecatini Terme centre to Mondolandia (or back) is € 12,00 from 1 to 4 person – one way fare;
Minivan from Montecatini Terme centre to Mondolandia (or back) is € 15,00  from 5 to 8 person – one way fare;
If you want to take advantage of this agreement  please call the number +39 0572 72262 and specify the type of taxi needed.
Please also bear in mind that the number of taxis available in Montecatini Terme is limited to more or less 30.
You can reach the Venue with the easy shuttle bus system organized by European Bridge League:
Please see the map and hotel list enclosed to find out what is your best UPLOADING point downtown. Every morning the coaches leave at 9,30 to Mondolandia and will be back starting from 18.30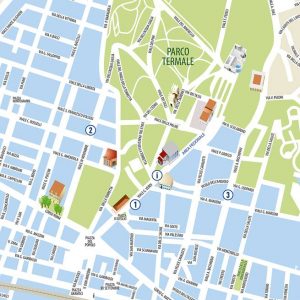 Click HERE to download the Map of Montecatini
Uploading point 1 =  VIALE VERDI
Uploading point 2 = VIALE IV NOVEMBRE
Uploading point 3 = VIALE BICCHIERAI
I: Information centre VIALE MANZONI
Please see enclosed the Hotel List of Montecatini Terme to see what's the closest uploading point to your hotel.
Cost for weekly round trip transportation is only  € 30,00 per person NO DAILY TICKETS AVAILABLE, only weekly purchase.
In order to register for this service please write to info@tomontecatini.com so that we can forward it with the dealer.
MONTECATINI TERME – INFORMATION CENTER
The information center downtown in Montecatini Terme is located in Viale Manzoni, 7 (very close to Touristic InfoPoint).