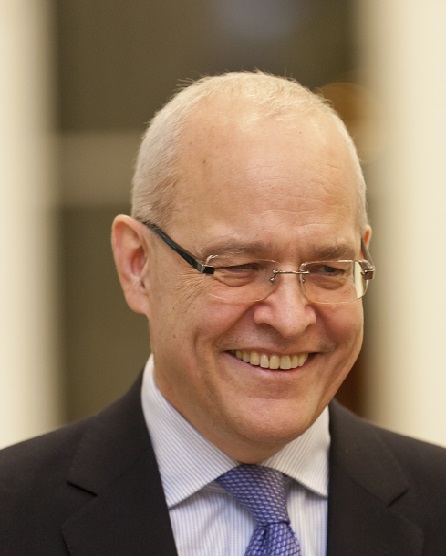 Jens Auken of Denmark, a top bridge player and leading administrator of the game, passed away after a long illness, on 18 January 2014. He was yet to celebrate his 65th birthday.
Jens was one of the five children of doctors Gunnar and Kirsten Auken. His older brother Svend was a prominent member and eventual leader of the Danish Socialist party, while his sister Margrete who is also a priest, is still serving on the European Parliament. Jens opted to attend the Law School of the University of Copenhagen and he received a 'Master of Laws' degree in 1979.
As a lawyer, Jens Auken became a partner in Bech‐Bruun, one of Denmark's top law firms, and was considered a leading specialist in expropriation and neighbour disputes relating to major construction projects. He was also an advisor on general legal matters for municipalities, public enterprises and the legal framework for harbors.
Auken liked sports and as a teenager he was among the top of Denmark's young basketball players. Later on, he became an avid bridge player and represented his country on more than 400 occasions! He won gold medals at the European Mixed Teams 2000 and the European Senior Teams 2004; silver at the European Teams 1993 and European Mixed Teams 1990 and 1994; bronze at the World Team Olympiad
1984 and 1996, World Mixed Pairs 1998 and 2002, Generali Masters Individual 2004, World Senior Teams 2005, European Mixed Teams 1996 and 2003, etc. He was also the winner of over 40 national titles in Denmark.
Jens Auken was also interested in bridge administration and served on various positions internationally. He was first elected to the European Bridge League (EBL) Executive Committee in 1987 and was re‐elected continuously until his death, serving as Vice President (2003‐07) and Hon. Secretary (2010‐12). As a European delegate, he was a member of the World Bridge Federation (WBF) Executive Council (1993‐2012), during which he served as Vice President (1995‐2006).
As a bridge administrator, Jens' area of interest was on Systems, Statutes, Laws, Regulations and Ethics, and he served many times on Appeals Committees in various championships. Ultimately, he represented the world of bridge in the World Anti‐ Doping Agency (WADA) where he argued successfully on the differences between physical and mental sports, and negotiated the thorny issue of pre‐tournament testing in mind sports.
Jens Auken is survived by four sons; the two oldest are with his German‐born bridge colleague and World Champion Sabine Auken, while the youngest with psychologist Anne Kristine Auken.
Panos Gerontopoulos
From José Damiani, President Emeritus, World Bridge Federation:
Dear Sabine and friends
Even if it was unfortunately expected this is a terrible loss for all of us. We were quite close for many years sharing the same passion for bridge and the same kind of dedication to the federations
A great man, a great player, a great lawyer and administrator, a great friend left us too young, too soon.
Please accept and pass my sincere condoleances to his family and children
José Damiani