The 2013 World Bridge Championships were held in Bali, Indonesia during September. 6 European Teams competed in each of the three series.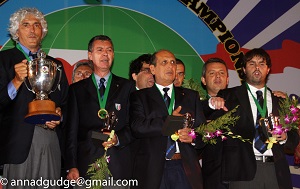 Norberto Bocchi who was celebrating his birthday in style, Lorenzo Lauria, Agustin Madala, Alfredo Versace, Giorgio Duboin, Antonio Sementa, Gianni Medugno npc, Giuseppe Failla coach won the Bermuda Bowl for Italy for an amazing 15th time, defeating Monaco's Fulvio Fantoni, Geir Helgemo, Tor Helness, Franck Multon, Claudio Nunes, Pierre Zimmermann, Jean Charles Allavena npc, Krzysztof Martens coach in a one sided final.
Poland's Cesary Balicki, Krzysztof Buras, Krzysztof Jassem, Marcin Mazurkiewicz, Grzegorz Narkiewicz, Adam Zmudzinski, Piotr Walczak npc, Marek Wojcicki coach took bronze.
In the Venice Cup, in a match that kept the worldwide audience on the edge of their seats England's Sally Brock, Fiona Brown, Heather Dhondy, Nevena Senior, Nicola Smith, Susan Stockdale, Jeremy Dhondy npc, David Burn coach lost out narrowly to USA 2. The Netherlands', Carla Arnolds, Marion Michielsen, Jet Pasman, Anneke Simons, Wietske van Zwol, Meike Wortel, Alex van Reenen npc, Hans Kelder coach finished third.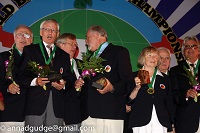 Germany's Michael Elinescu, Ulrich Kratz, Reiner Marsal, Bernhard Sträter, Ulrich Wenning, Entscho Wladow, Kareen Schroeder npc, Karin Wenning coach won the d'Orsi Senior Trophy after a thrilling final against USA2. Poland's Julian Klukowski, Apolinary Kowalski, Krzysztof Lasocki, Victor Markowicz, Jacek Romanski, Jerzy Russyan, Wlodzimierz Wala npc, Andrzej Biernacki coach won the bronze medal play-off .
Full Results & Bulletins can be found here
More Photographs from the Championships are here